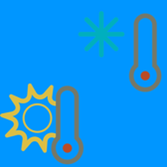 Welcome to a unique weather application, one specifically designed to keep track of your friends and families weather conditions.
If you're like me, you've got a weather app on your iOS device that has lists of cities that are important to you – that represent the weather where your friends and family live.
Instead of that I wanted a dedicated app that could show me my list of friends, and the weather in their location.
This first version of FriendsWeather allows you to do just that. You add your list of friends and family and their locations by choosing from your Contacts app, and their location and weather appears in Friends Weather.
Other features:
reorder the list to put those most important at the top
delete those you no longer wish to track.
switch between all the locations in their Contact app entry
see a 8 day forecast with textual descriptions and iconography
Adding more than two friends and family requires a subscription, to help cover the cost of the weather data.
I hope you'll download it, give it a try, and send me your thoughts at support@chromedomesoftware.com. I also hope you'll subscribe and support the apps future development.
Some details about the subscriptions:
There are two subscriptions available for Friends Weather, a monthly and a yearly subscription for weather data. Subscribing will allow you to add as many of your friends and family as you would like.